Panadol Cold & Flu Vapor Release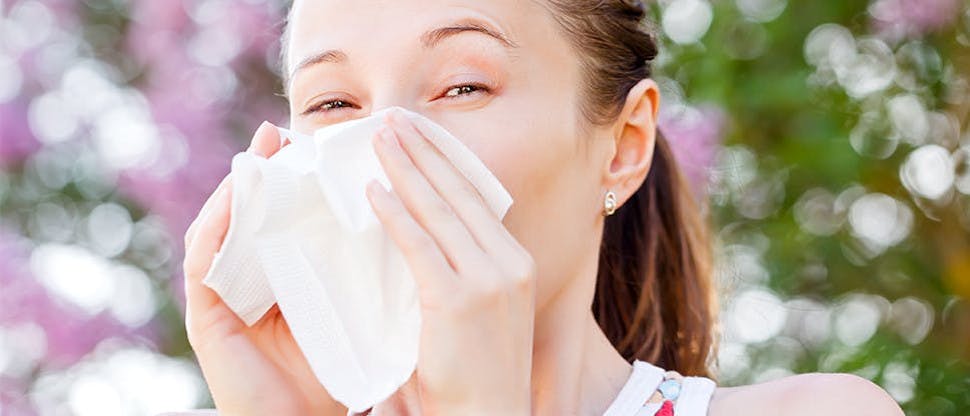 Provides effective relief from symptoms of cold and flu1-6
Panadol Cold & Flu is specially formulated with 3 active ingredients to provide multi-symptom relief from cold and flu:
Paracetamol for management of fever and pain8
Phenylephrine for nasal decongestion8
Ascorbic acid to supplement dietary vitamin C intake8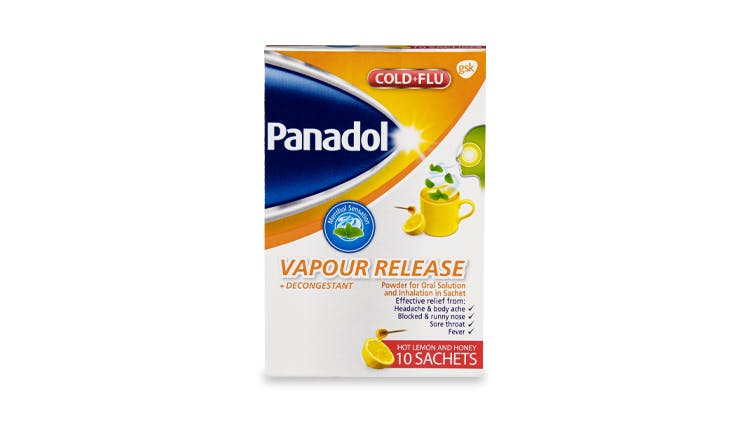 Panadol Cold & Flu Vapor Release (paracetamol 600mg, phenylephrine hydrochloride 10mg, ascorbic acid 40mg)
For patients who are looking for fast relief of multiple symptoms of colds and flu.1-6
Calcium phosphate, Citric Acid, Colloidal anhydrous silica, Flavours, Maize Starch, Sodium Chloride, Sodium Citrate, Sodium Sulphate, Sucrose, Tartaric Acid. Artificial Sweeteners - Acesulfame Potassium, Aspartame (E951), Saccharin sodium, Sodium cyclamate. Colouring materials including - Amaranth (E123), Brilliant Black BN (E151), Caramel (E150), Carmoisine (E122), Green S (E142), Natural curcumin (E100), Quinoline yellow (E104), Sunset Yellow (E110). Contains paracetamol 600mg, phenylephrine hydrochloride 10mg, ascorbic acid 40mg.

Always follow the label directions.

Not recommended for children under the age of 12 years.

For adults and children aged 12 years and over, take 1 sachet every 4-6 hours as required, with a maximum of 6 sachets in any 24-hour period.8

Contains paracetamol. Do not use with any other products containing paracetamol, decongestants or cold and flu medicines. The concomitant use with other products containing paracetamol may lead to an overdose. Paracetamol overdose may cause liver failure, which may require liver transplant or lead to death.

Cases of hepatic dysfunction/failure have been reported in patients with depleted glutathione levels, such as those who are severely malnourished, anorexic, have a low body mass index, are chronic heavy users of alcohol, or have sepsis.

Medical advice should be sought before taking this product in patients with:

Hypertension
Cardiovascular Disease
Diabetes
Hyperthyroidism
Angle closure glaucoma
Phaeochromocytoma
An enlargement of the prostate gland
Occlusive vascular disease (e.g. Raynaud's Phenomenon)
Liver and kidney impairment. Underlying liver disease increases the risk of paracetamol-related liver damage
Glutathione-depleted states, as the use of paracetamol may increase the risk of metabolic acidosis

Use with caution in patients taking the following medications.

beta-blockers and other antihypertensive drugs
tricyclic antidepressants
other sympathomimetics (such as decongestants, appetite suppressants and amphetamine-like psychostimulants)
digoxin and cardiac glycosides
ergot alkaloids (e.g. ergotamine and methysergide)

Medical advice should be sought if symptoms worsen, persist for more than 7 days, or are accompanied by a high fever, skin rash or persistent headache.

Keep out of sight and reach of children.8
Panadol Cold & Flu – Your Cold & Flu Partner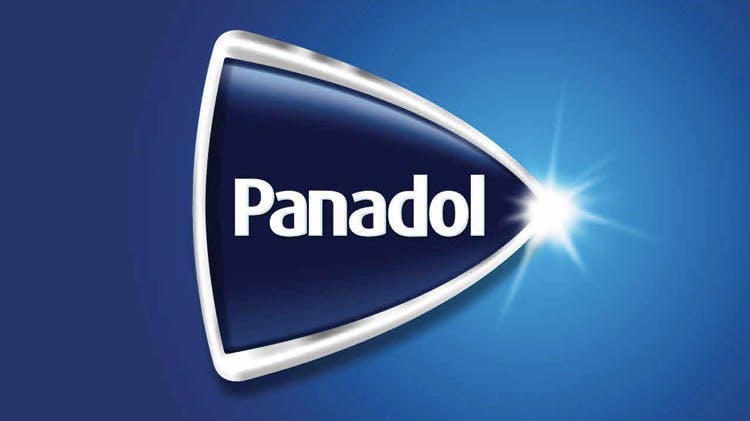 The Panadol Cold & Flu range
Find out how the Panadol Cold & Flu range can help your patients.