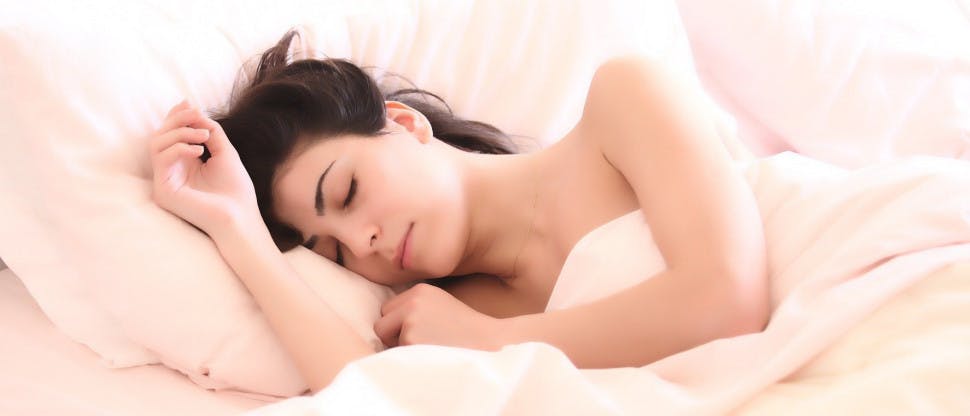 Night time multi-symptom relief so you get the rest you need1-17, 21
Panadol Cold & Flu Night relieves various symptoms common to colds and flu that may interrupt a good night's rest, including:19
Nasal and sinus congestion
Runny or blocked nose
Itchy nose or throat
Cough due to minor throat irritation
Minor aches and pains, such as sore throat, headache, Muscle ache and sinus pain
Fever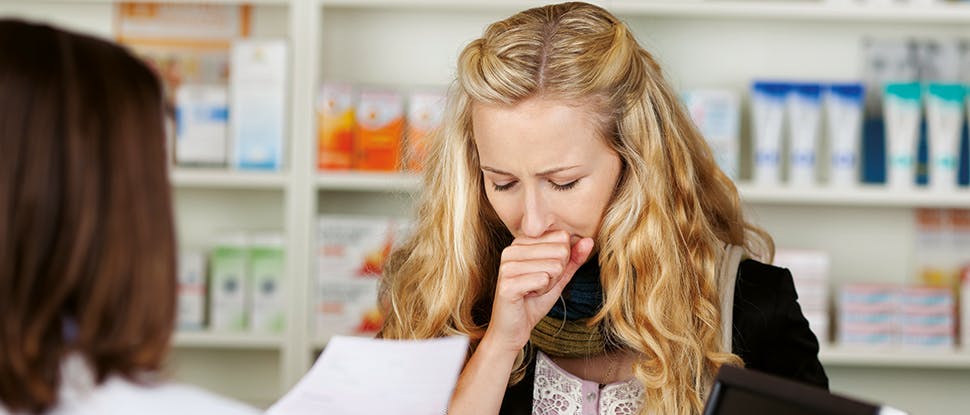 Contains 3 active ingredients for multi-symptom relief
Combining 3 active ingredients into one convenient dose helps patients to simplify treatment.18 Panadol Cold & Flu Night contains:
Paracetamol to manage pain and fever19
Pseudoephedrine for decongestion of the nose and sinuses19
Chlorphenamine for reduction of cold and flu symptoms such as a runny nose15,19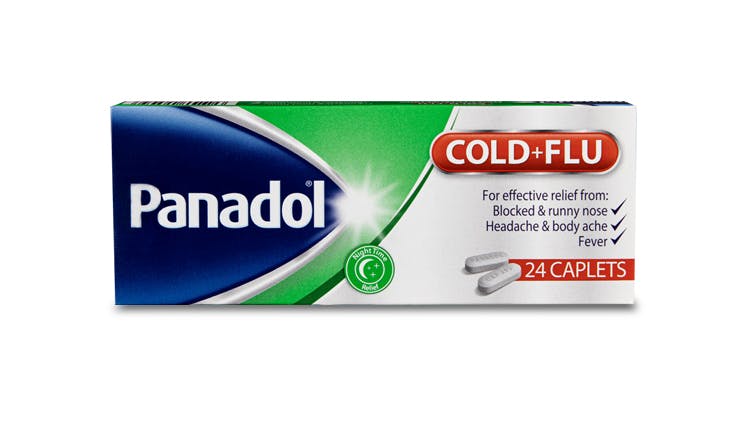 Panadol Cold & Flu Night (paracetamol 500mg, pseudoephedrine hydrochloride 30mg, chlorphenamine maleate 2mg)
For patients who are looking for effective multi-symptom relief of colds and flu that allows them to get the rest they need.1-17
Contains paracetamol 500mg, pseudoephedrine hydrochloride 30mg, chlorphenamine maleate 2mg.

Always follow the label directions.

Adults and children aged 12 years and over may take 1-2 tablets every 4-6 hours as required, with a maximum dose of 8 tablets within 24 hours.

The elderly may take 1 to 2 tablets, every 4 to 6 hours as needed. Maximum daily dose: Six tablets in 24 hours.

Not recommended for children under the age of 12 years except under medical advice.19

Contains paracetamol. Do not use with any other products containing paracetamol. Concomitant use with other products containing paracetamol may lead to an overdose. Paracetamol overdose may cause liver failure, which may require liver transplant or lead to death.

Cases of hepatic dysfunction/failure have been reported in patients with depleted glutathione levels, such as those who are severely malnourished, anorexic, have a low body mass index, are chronic heavy users of alcohol, or have sepsis.

Concomitant use of other cough and cold medicines, or antihistamines should be avoided.

Chlorphenamine may increase the effects of alcohol, and therefore concurrent use should be avoided.

Consider the overall benefit-risk before using this product in patients with the following conditions:

Hepatic impairment. Underlying liver disease increases the risk of paracetamol-related liver damage
Mild to moderate renal impairment
Glutathione-depleted states, as the use of paracetamol may increase the risk of metabolic acidosis
Cardiovascular disease
Arrhythmias
Hypertension
Hyperthyroidism
Diabetes
Prostatic enlargement
Psychosis
Pheochromocytoma
Raised intraocular pressure including glaucoma
Epilepsy
Bronchitis, bronchiectasis and bronchial asthma

Use this product with caution in patients taking the following medications:

beta-blockers or other anti-hypertensives
vasoconstrictive agents such as ergot alkaloids
drugs that cause sedation, such as anxiolytics and hypnotics, as chlorphenamine may cause an increase in sedative effects.

Use this product with caution

when planning surgery. Acute perioperative hypertension may occur if volatile halogenated anaesthetics are used simultaneously with indirect sympathomimetic agents. It is recommended that pseudoephedrine treatment be stopped 24 hours before anaesthesia.

The product should be discontinued immediately and urgent medical advice should be sought:

if sudden abdominal pain, rectal bleeding or other symptoms of ischaemic colitis develop, as there have been reports of ischaemic colitis with pseudoephedrine
if sudden onset of severe headache, nausea, vomiting, and visual disturbances develop. These may be indicative of posterior reversible encephalopathy syndrome (PRES)/reversible cerebral vasoconstriction syndrome (RCVS). There have been rare cases of PRES/RCVS reported with sympathomimetic drugs, including pseudoephedrine. Most cases improved or resolved within a few days following appropriate treatment

The pseudoephedrine content of this product may result in a positive reaction during antidoping control tests.

Children and the elderly are more likely to experience neurological anticholinergic effects and paradoxical excitation (e.g. increased energy, restlessness, nervousness). Avoid use in elderly patients with confusion. Also, it is advised to use this product with caution in patients over the age of 60 years, as the patients in this age group are at greater risk of adverse reactions due to decreased renal function, and are more likely to experience unwanted reactions when using oral sympathomimetic agents.

Keep out of sight and reach of children.19

Contraindications

Do not use if:

you are allergic to paracetamol, pseudoephedrine, chlorphenamine or any of the other ingredients.
You have high blood pressure or heart disease.
You have kidney problems, unless a doctor says you can.
You are taking other medicines for the relief of cough, cold and flu, congestion or blocked nose.
you are taking medicines called tricyclic antidepressants, stimulant drugs called amphetamines (sometimes used to treat attention deficit disorders), or appetite suppressants.
You are taking or have taken in the past two weeks, drugs called monoamine oxidase inhibitors (MAOIs) which are used to treat depression.
You are taking an antibiotic called furazolidone or linezolid.

This product is contraindicated in patients:

with prior hypersensitivity to paracetamol, pseudoephedrine, chlorphenamine or to any of the excipients.
with hypertension of either 180 mmHg systolic or 120 mmHg diastolic, or higher, or coronary artery disease.
with severe renal impairment (GFR <30 mL/min).
who are receiving other sympathomimetics (such as decongestants, tricyclic antidepressants, appetite suppressants and amphetamine-like medicines)
who are taking or have taken monoamine oxidase inhibitors (MAOIs) in the last two weeks
who are taking oxazolidinone class of antibiotics including furazolidone and linezolid
Panadol Cold & Flu – Your Cold & Flu Partner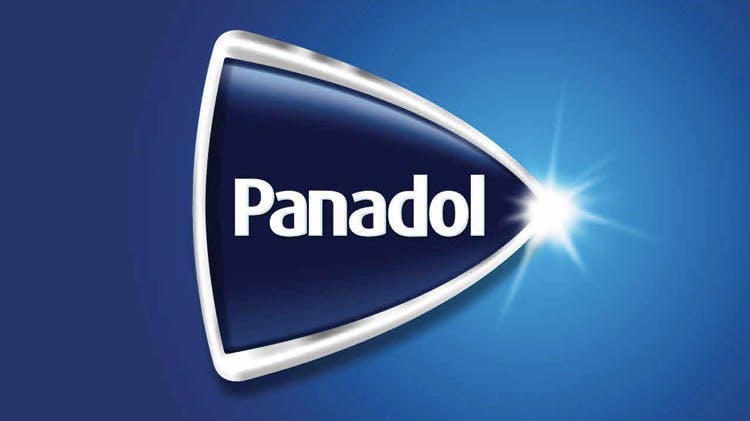 The Panadol Cold & Flu range
Find out how the Panadol Cold & Flu range can help your patients.